A list of Equipment and Buildings at McHenry
---
Click on thumbnail for larger view. Photos by Lewis Ableidinger. See the schematic for details on the location of buildings and equipment.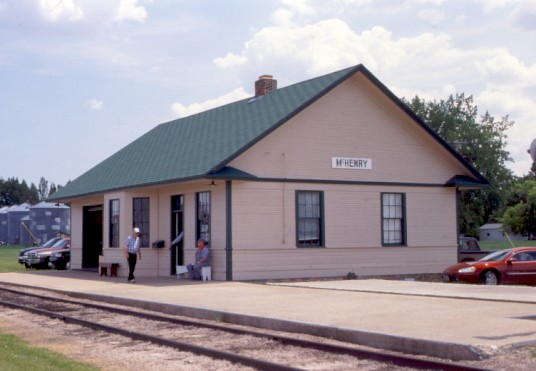 The station at McHenry is unfortunately not the original. This is a Great Northern station that came from Glenfield, ND, eight miles to the south. McHenry acquired the dpot on October 20, 1987. It was last used as a BN section headquarters. The operations are based out of the depot and it also houses a small museum. Such artifacts inside include railroad tools, signs, a baggage cart, timetables, and much more. An N scale model railroad is also on display.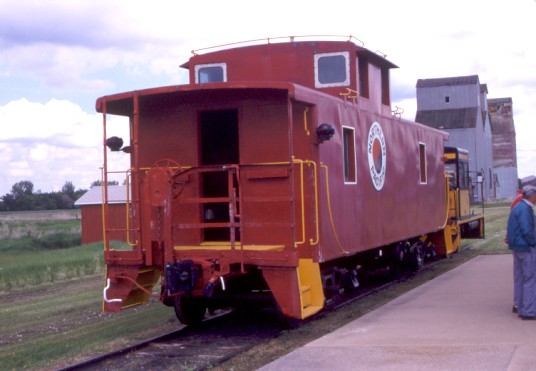 The caboose is an authentic Northern Pacific caboose built in the early 1950's at Northern Pacific's Brainerd, MN, shops. Burlington Northern used the caboose (BN# 11405) until the early 1980s, when it was retired. McHenry acquired the caboose in 1983, just in time for rides on a July 9 dedication ceremony. It was repainted by volunteers.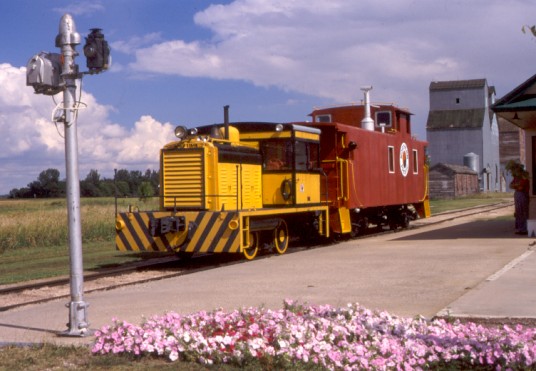 The engine was built by Whitcomb and was originally gas-mechanical with a Le Roi number 152826 gas engine. It is a model 20GM24 weighing 20 tons, serial number 13219, and was built in January 1942. It was later modified and changed to a diesel-mechanical engine. It was originally built for the US Army Corps of Engineers before being acquired by Ottertail Power Co. in Fergus Falls, MN. In 1951, Ottertail converted the gas engine to diesel with a GM 6-71 engine and Allis Chalmers torque converter. The unit was later sold to Ladish Malting in Spiritwood, ND. When the engine became too small for Ladish's needs, McHenry was able to acquire it on October 1, 1982.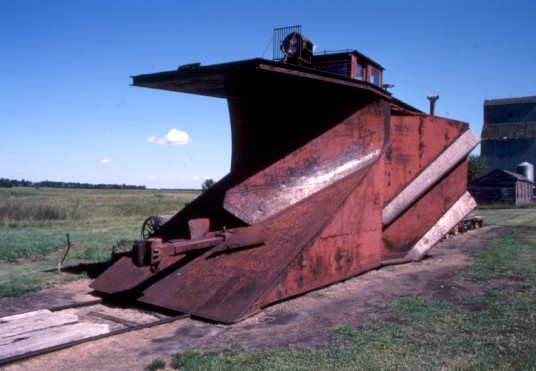 The snowplow is a 1937 Russell plow built for the Northern Pacific. It was actually damaged on the McHenry line on March 15, 1941, while plowing after a large blizzard. BN also used this plow for a short time. It was discovered by McHenry resident Robert Ramey in a junkyard in Jamestown, ND. It was bought for the price of scrap steel (10 cents/pound) for $825 on Nobember 3, 1983. It was then moved up to McHenry by truck.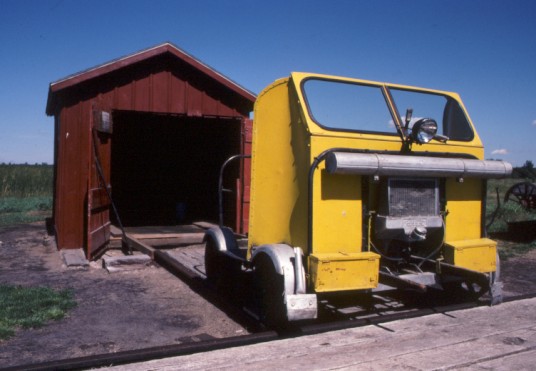 The speeder is a Fairmont gas speeder built in Farimont, MN. It's original origins are unclear but was acquired from the Burlington Northern. The shed in the back was a 1894 speeder shed that the Soo Line used in Lemert, ND (between Carrington and Cathay). The walls contain authentic hobo carvings dating back to the late 1890s and early 1900s. The shed was acquired in 1988 with the speeder coming the following year.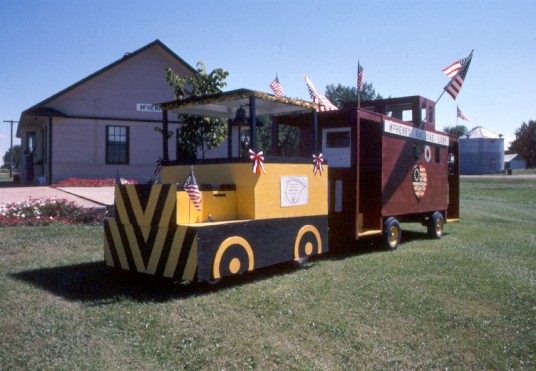 This replica of the train was built by a creative volunteer. It is used in parades around the state and also gives small children rides around the depot grounds.

---

---

Copyright 2004, McHenry Railroad Loop Assn.
Photos Copyright 2004 Lewis Ableidinger